As you consider the best way to process deposits, you may want to take advantage of innovations in deposit technologies, as well as the recent changes that traditional methods have undergone.
Although the use of online banking and mobile banking apps is growing rapidly, one thing is for certain: cash and coin will continue to be a form of payment. Therefore, it is important that companies like yours stay aware of new solutions and industry trends.
Bank branches and closures due to COVID-19
Banks had already been moving toward digitizing many banking activities before the COVID-19 outbreak, and the pandemic only accelerated that trend as clients increased their use of remote account management tools. Even before the beginning of the lockdowns across the United States, there had been a steady decline in the number of brick-and-mortar bank branches nationwide. Surprisingly, the number of branch closures has remained in line with the rate established before the pandemic.
According to data provided by the Federal Deposit Insurance Corporation (FDIC) and Office of the Comptroller of the Currency (OCC), the number of 90-day notices of forthcoming closures has not increased. From March through August 2020, banks submitted 893 branch closing notices to the OCC and FDIC. During the same period in 2019, 967 were submitted. These stats, however, do not indicate that banks aren't reconsidering their physical footprint as more clients make it clear they prefer to go digital.
What is next for branches?
Instead of simply closing hundreds of branches across the country, banks are reassessing the structure of branches and the services that they offer at brick-and-mortar locations. During the pandemic, many branches started offering certain services—from curbside to drive-up transactions—even if the branch lobbies were not open for walk-in transactions.
Banks can restructure the services offered when a client visits a physical branch. Instead of waiting in line for a teller, many branches could focus more on the "sit down and talk with a representative" approach. Banks could also start to rethink the placement of branches, avoiding more saturated areas and focusing more on the expansion of their presence.
ATM deposits
ATM deposits are gaining more popularity with clients. With ATM deposits, the bank issues the client a card that allows them to process their deposits at an ATM machine. Bills and checks are inserted into the ATM machine, and a deposit total is calculated for the client. Once the client confirms that the total is correct, the transaction is finalized, and a receipt is provided. Cards used for ATM deposits do not have a credit card logo on them and can be used only to deposit and not to withdraw them.
The ATM method provides several benefits. Banks may offer a later deposit cutoff time for the deposits to be processed while still providing same-day credit for the deposits. Business clients do not have to wait in the teller line, which can reduce the total amount of employee time spent away from a store or office. It also may reduce deposit supplies costs because most ATM deposits do not require a deposit slip or bag. Bank fees are also typically lower with the ATM method.
With less human interaction that is typically required from using the teller window, banks are able to price the ATM method more competitively. In addition, this method reduces deposit adjustments because the ATM verifies the deposit amount at the time it is processed. The client must confirm the dollar amount prior to finalizing the transaction. This, in turn, also helps reduce bank adjustment fees. Finally, given the steady closure of brick-and-mortar locations, ATM machines serve as an alternate solution for deposit processing.
There are also certain things companies should keep in mind when considering the ATM deposit method. Coin typically cannot be deposited via an ATM, which means clients would need to strategize a different way to process their coins. Some ideas might be to reuse coins in their stores or donate them to charity. Different machines also have certain limits on the number of bills that can be inserted per deposit, as well as different capabilities of depositing checks. Finally, if change orders are required, the client would likely need to use a teller window because most ATMs are not able to produce change orders.
Do we really need coins?
With people increasingly moving away from cash and checks, we have to ask ourselves "who still needs coins?" The answer, of course, is retailers who want to make it as easy and convenient as possible for all customers to pay them by whichever method they choose. The COVID-19 pandemic showed us the fragility of the physical payments system when severely reduced in-person transactions resulted in coin shortages throughout the country.
Processing cash and coin is generally one of the more labor-intensive cash management tasks for both businesses and banks. Moving away from cash and coin will likely lead to the eventual elimination of physical payments—seemingly a win-win-win situation for businesses, their customers, and banks. In the meantime, businesses will need to find the most efficient solutions for handling their cash.
Cash recyclers and smart safes
Two effective solutions to increase cash and coin acceptance efficiency are smart safes and cash recyclers. Smart safes enable businesses to store cash on-site in a secure manner, while also validating bills and providing a provisional credit for cash deposited in the safe but not yet deposited at the bank. Cash recyclers take this an additional step by also allowing for withdrawals from the safe to meet daily cash needs (e.g., check cashing or specific bill denominations for change).
The primary benefit of these solutions is to reduce the number of visits from armored carriers or trips to bank branches to make deposits. Fewer deposits mean a business can reduce the bank fees associated with depository services. Plus, smart safes and cash recyclers minimize the need for manual bill counting and validation by employees. These solutions, however, do come at a cost, and some companies may not have room in their retail spaces to place a smart safe or cash recycler. Companies may also open and close locations frequently, making an on-site solution less practical. For the right retailer, however, a smart safe or cash recycler can greatly increase cash processing efficiency, reduce cash management fees, and alleviate some of the manual workload associated with cash acceptance.
Bank by mail
Deposit by mail is another option for businesses to consider. Third parties and banks are using USPS, UPS, and FedEx to carry cash envelopes. Each bank and carrier has its limitations and procedures, so clients should always check their bank before sending out any cash deposits through the mail.
One of the benefits of banking by mail for businesses is that employees do not have to drive and wait at a bank branch, and they have more flexibility to create the deposit online and then send it safely through the mail. Internet-based platforms provide real-time visibility of the deposit, and the business can receive a provisional credit at the beginning of the lifecycle deposit. This option can make the process more efficient while also improving visibility and transparency.
Armored couriers and bank branches
Another new deposit method some banks offer involves partnering with an armored courier to retrieve the company's deposits from the store and delivering them to a bank branch for processing. Typically, armored couriers deliver deposits to a cash vault, but this option may be more cost effective for the client. It may also be a good solution for company stores that do not have a branch within a reasonable driving distance.
Finding the best deposit method for your business
The ideal deposit strategy depends on a company's specific needs. In addition to this goal, safety concerns—such as employees leaving the store to go to a branch and deposits getting lost along the way—must be addressed. Time at a bank branch also means time away from the store, which could potentially influence sales, depending on the type of business. Taking these factors into account, companies seeking to find the best strategy should use a mix of the available deposit options.
Comparison of deposit methods by cost, time, safety and customer preferences
The table below summarizes the different deposit options for businesses, along with criteria rankings for each method.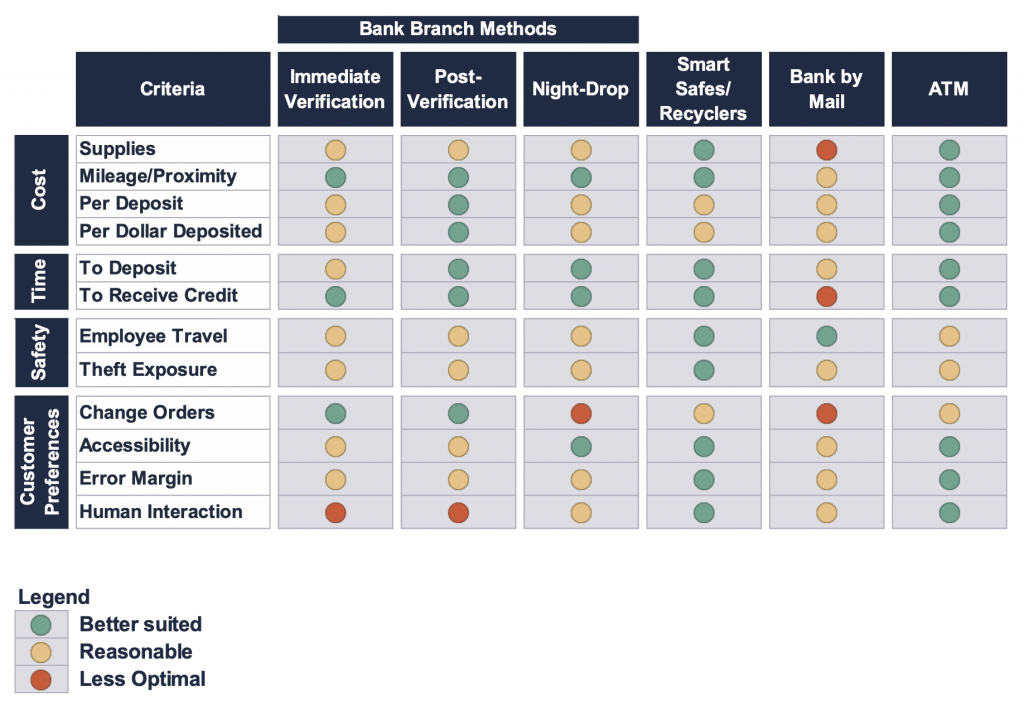 ---
RELATED RESOURCE
2020: The Year In Review
An Insights From the Field exclusive report on the treasury trends and innovations that swept 2020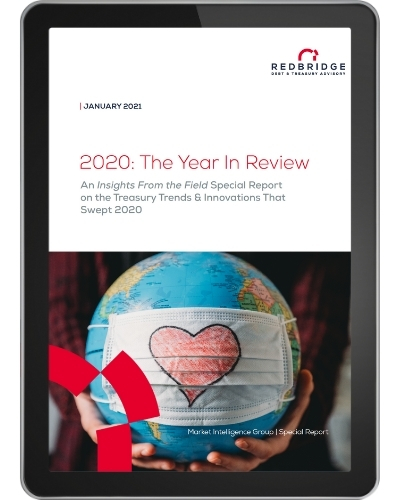 This new publication analyzes the trends and innovations in the treasury world that were already in motion before this crisis began and that either accelerated or gained tremendous publicity during the pandemic.
Included in this report:
Deposit Strategies in a Changing Banking Landscape
The Pros and Cons of Faster Electronic Payments
COVID-19 Forced My Digital Transformation. Now What?
Where We've Been and Where We're Going: An Overview of 2020-2021 Card Brand Changes
Transitions in the Global Payments Market