A special report on the cash management & payment trends that will transform your treasury department in 2022
The growth and vitality of the payments industry has fascinated all observers during the past two years of the pandemic. Now with recent geopolitical developments arising from the Russia-Ukraine conflict, it is being tested again.
Our new publication analyzes the most prevalent trends and innovations in the treasury world today.
Included in this publication:
The Global Resurgence of QR Codes
Choosing the Right Payment Terminal in an Ever-Changing Environment
The Rise of Buy Now, Pay Later
PCI Compliance in an E-Commerce World
Where Do Banks Stand in the Race for Digital?
Virtual Accounts, Which Companies Should Implement Them?
The Future & Alternatives to SWIFT GPI
Global Digitization in the Depository Space
"Switching Banks Was the Right Decision": An Interview with Olivier Bouillaud from Albéa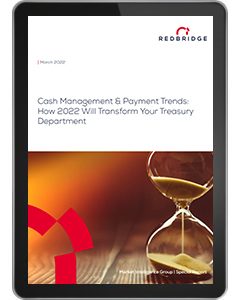 Download the full publication