Although COVID-19 has strengthened e-commerce sales, which already experience meaningful year-over-year growth, brick and mortar retail continues to maintain relevance. According to the U.S. Department of Commerce statistics, E-commerce increased 6.8% in Q3 2021 while offline sales grew 11.5% in Q3.
Brick and mortar retail proves to be resilient
With the in-store shopping experience evolving and more blossoming years ahead, payment terminals and their capabilities are also evolving; however, payment terminal selection and management tend to be overlooked by many treasurers – especially in the USA, where acquirers remain the primary distributors. Yet, treasurers and other key stakeholders need to consider terminals and their broader functionalities as part of their payment strategy. This is especially important as terminal technology and its touch on the customer continue to evolve.
Trends to consider when choosing a payment terminal
New Consumer Behaviors
The pandemic has caused a great disruption in the way people do things. It changed the way people work with work-from-home, most countries and cities had lockdowns. It is not surprising that it also shifted consumer behaviors. One form of behavior change is how consumers make payment. Contactless payments defined as the ability to pay by tapping a physical card, wearable, or smartphone enabled by RFID or NFC technologies over a card reader, it was already on the verge of widespread global adoption. However, usage accelerated quickly due to the pandemic since safety was a key driver of payment adoption in 2020. However, convenience and simplicity will continue to drive further consumer acceptance in 2021.
Around the world, consumers are choosing to shop with businesses that offer contactless at the point of sale. "Contactless payments have become a driving differentiator: If all other factors were equal (price, selection and location), nearly two-thirds (63%) of consumers would switch to a new business that installed contactless payment options," according to The Visa Back to Business Study.
In the US, American Express found that 70% of merchants reported customers are requesting the option of contactless tap-and-go or mobile app payments. Cashless payments adoption in Asia Pacific has also been on the rise as it is growing 2.5x faster in the region.
According to a 2020 survey by Visa Inc., the adoption rate of cashless in Singapore accounted for 98%, followed by Malaysia (96%), Indonesia (93%), Vietnam (89%), Philippines (89%), and Thailand (87%).

The use of debit and credit cards in point-of-sale payments is also a factor that is driving the need for POS terminals. Worldpay, in 2020, digital or mobile wallets accounted for the largest share of point-of-sale payment methods in the Asia-Pacific region, with over 40% of payments. This was followed by card payments (debit and credit), which accounted for 33.6% of the payments, and cash (19.2%).
Other trends that have been on the uptick since the start of the pandemic that will continue to grow are curbside pickup, virtual consults, social commerce (social media marketplace). These trends will drive businesses to change or update their POS payment terminal rapidly. The need for the terminals to be able to accept contactless payments whether it is card or mobile is crucial. Terminals should also be more mobile, accessible and the software needs to be seamless and secure.
A focus on the Android ecosystem
Allowing the Android ecosystem on to the payment terminal unlocks all sorts of new possibilities. Acquirers and value-added providers can develop their own applications, bringing new ideas to banks and acquirers. Front-office apps could be in the form of store applications, loyalty, click & collect and ticketing. Back-office apps can deliver reporting, staff management and much more. This will help banks and acquirers to improve their customer retention. With devices being able to do more, depending on the context, it might reduce the need for multiple devices in store. Another important point is the ability to accept alternative payment methods, leveraging extended device capabilities, such as cameras, scanning and NFC. Android also unlocks the ability to port new applications, including QR codes and digital wallets – on top of traditional payment methods.
Merchants are receiving more and more mobile terminals with SIM cards. A smartPOS based on Android offers more than the legacy portable terminals and mPos dongles. The shortage of semiconductor and other components might slow the manufacturing of these terminals since they are used in almost all electronic devices.
A focus on new pos devices
Many new devices have launched recently from updates to the traditional fixed kiosks to more innovative mobile solutions. Samsung Electronics released the Samsung Kiosk, an all-in-one solution that offers contactless ordering and payment capabilities in June 2021. Providing customers with easy install options and a protective coating, the Kiosk is now available in 12 countries worldwide, including the United States, Canada, the United Kingdom, Ireland, France, Sweden, the Netherlands, Belgium, Spain, Austria, Australia, and Singapore.
PAX Technology announced the European launch of the M30 & M50 Android PayPhones in September 2021. The M-series PayPhones are the first ever smartphones with inbuilt point of sale technology. It combines the benefits of a secure EMV & PCI 6 certified payment terminal within an Android smartphone ecosystem. These new devices bring an interesting proposition for acquiring banks and payment service providers looking to better partnerships with telecoms or to provide an additional new option to merchants. These devices enable companies and entrepreneurs to operate an E-Commerce business on the run. All major global payment methods can be accepted.
Features to consider when choosing a payment terminal
Different models of terminals for different use cases
Sales depend on the means of payment, what a merchant can accept in store heavily depends on the hardware they have in store. Merchants can enhance customer experience (hence boosting their sales) by selecting a terminal relevant to their activity and client profile. There are a few key features to keep in mind when selecting the right payment terminal including the trends listed.
Some industries require their vendors or employees to move around the store/station/restaurant/etc. and to be able to accept payment at any moment anywhere on the premises. In this case, a mobile terminal or mPOS (i.e. a credit card reader attached to a smartphone or tablet) would be relevant.
Connectivity
The main connections available are Wi-Fi, Bluetooth, Telephone line, Ethernet, and GPRS/4G and there is no one-size-fits-all solution. However, the safest option would be to choose combine connections to prevent any interruptions at the checkout. For example, a fixed terminal connected to Ethernet with a SIM card to have a 4G Back-up.
Standalone vs integrated
Standalone terminals do not connect to the electronic cash register (ECR), requiring the cashier to manually key payment amounts into the terminal. On the other hand, integrated terminals automate this process offering a faster checkout while reducing the risk of human error. While advantages of integrated solution are obvious, it usually costs a lot more and installing it might take longer.
When it comes to integration, you can choose to fully or semi-integrate your terminals. In the first option, card data is going back and forth from your terminal to your payment processor through your ECR. In this case, the merchant's system must comply with higher PCI DSS requirements (because cardholder data are transiting through the merchant's system). The second option is usually the preferred method, where the data goes directly to the processor for payment authorization (without passing through the merchant's ECR), and allowing merchants to reduce their PCI DSS scope.
Software
Proprietary operating systems were the conventional choice for terminals. However, the trend is to shift to Android-powered terminals that allow merchants to run all kind of Android applications and to benefit from new functionalities.
Beside traditional VISA and MasterCard, Merchant can install many more payment applications such as local schemes, gift cards, DCC, contactless, etc.
Security
Security should be given great consideration when choosing a terminal. As devices become more interconnected, security threats could also come from different sources. Day to day business can be disrupted if a business was hacked.
2021 saw a large number of high-profile hacks like Colonial Pipeline, SolarWinds, Twitch, CNA and many more. While these headline hacks might not have been through POS terminals, POS devices remain a desirable target to cybercriminals.
Environmental impact
As ESG adoption and concern grows, more consideration is given to producing and disposing of these terminals and devices. Device producers could have sustainability as part of their goals when producing new terminals. The result might be a more eco-friendly terminal produced with recycled materials or super low power consumption. On the other side, disposal or recycling old terminals might prove to be more of a challenge, most of these devices are considered e-waste. Traditional waste management companies might not be equipped or able to dispose or recycle these items.
Samuel Tong & Pauline Lion
---
A special report on the cash management & payment trends that will transform your treasury department in 2022
The growth and vitality of the payments industry has fascinated all observers during the past two years of the pandemic. Now with recent geopolitical developments arising from the Russia-Ukraine conflict, it is being tested again.
Our new publication analyzes the most prevalent trends and innovations in the treasury world today.
Included in this publication:
The Global Resurgence of QR Codes
Choosing the Right Payment Terminal in an Ever-Changing Environment
The Rise of Buy Now, Pay Later
PCI Compliance in an E-Commerce World
Where Do Banks Stand in the Race for Digital?
Virtual Accounts, Which Companies Should Implement Them?
The Future & Alternatives to SWIFT GPI
Global Digitization in the Depository Space
"Switching Banks Was the Right Decision": An Interview with Olivier Bouillaud from Albéa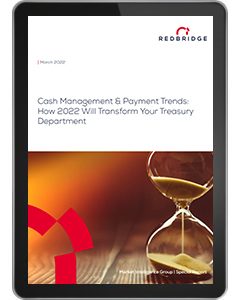 Download the full publication