Michel Yvon, head of payments at Decathlon International, presents the innovative payment strategy of Europe's N°1 sports retailer.
– What challenges do cards and other electronic payments present within the Decathlon group?
– Decathlon is a sports and leisure item retailer with an annual global turnover of around €13 billion, achieved through its 1500 stores in 60 countries and online sales. Our payments are organized according to an omni-channel approach and our mission, at the treasury, is to provide payment components adapted to the way in which our customers buy our products.
Their needs are highly diverse. A single customer can follow completely different purchasing journeys at different times. For example, when buying an item of clothing in one of our stores, they might prefer to use a self-service checkout. On the other hand, if they're making a major purchase, such as in the case of a family wanting to fully equip themselves with hiking gear for their next holiday, they might appreciate if at the checkout we propose a payment solution that involves three or four installments. Other customer journeys are considered from a transportation perspective, such as an order for heavy equipment – a weight bench or treadmill, maybe – that the customer may want to pick up in their vehicule without visiting the store.
In order to meet these needs, we are deploying an architecture and pooled payment solutions at a central level internationally. At the local level, our teams are involved in adapting our payment method offering to the needs of our stores and customers' habits.
– How is the deployment of a group-wide payment solution decided?
– We are attentive to the value created by each payment solution. Does it respond to the needs of a customer who otherwise would not come to the store? Is the solution efficient, in terms of the payment behaviour or in economic terms(on-us transactions).
Our payment model targets future trends without imposing a managed customer journey. It is on this basis that we have worked on cross-border acquiring, and we conducted our first contactless payment tests ten years ago. Sometimes, we also get ideas from our store operations. For example, at the request of a running department manager who wanted an extra incentive to convince customers who were dubious about buying a pair of running shoes, we proposed a solution called Test Product, based on the functionalities of the mPOS. A simple card imprint enables the sale to be closed. If the customer is satisfied and does not return the product, they will be charged!
Our model also integrates solutions that streamline payment: self-service checkouts, RFID technology for instant checkout and mobile solutions.
We introduced RFID technology into our products ten years ago to enable each store to easily manage its inventories, with the help of an RFID reader. Its use within the context of payments took place gradually. We then created the bin that instantly calculates the cost of the cart. This solution has become widespread over the past year.
Finally, when it comes to mobile payments, our department specialists are equipped with tablets on which we have installed applications to simulate checkouts. This is a useful support for our Test Product offer.
– Have you reviewed your e-banking organization against the backdrop of the COVID-19 crisis?
The crisis has justified our e-banking choices. The way we are organized does not make distinctions between the web and our points of sale. We had already developed applications that proved useful for easy implementation of in-store collection of Internet orders. The payment was generated from a URL. In addition, our in-store checkouts are mobile so it has been easy to move them to comply with social distancing measures and let the customer pay for their purchases independently.
Finally, our centralized, fully hosted architecture has enabled us to benefit from the increase in the contactless payment ceiling since its first day.
– Do you intend to integrate instant payment?
– This is not an issue for us as we have not identified any need for the customer to pay immediately. However, the technology that enables the instant exchange of information without necessarily charging the customer is interesting.
– Have you considered offering payment in crypto currency?
– Technically, it would not be very complicated to do so but, ethically speaking, we are not ready. Tourists do not represent a significant client group for Decathlon, and we only deal with a few payments in foreign currency via dynamic currency conversion (DCC). We offer this option locally, especially in certain stores bordering Switzerland.
Bitcoin is a highly volatile currency and is used by a very targeted population, or people who do not want to be traced. For pure advertising purposes, at a store opening in Canada we offered a cashback program, the payment of which was in Bitcoin. But integrating cryptocurrencies into our range of payment methods is not on our agenda, even though, as with instant payment, blockchain technology is interesting.
---
Read our new Payments Report – Shifting to faster payments
Redbridge's 2020 Payment Report is a source for trends and insights into today's dynamic payments environment. This second edition presents how various stakeholders position themselves in the payments industry and explores topics related to innovative payments, instant payments, e-commerce and fraud mitigation.
Contributions from treasury practitioners, bankers, payment service providers and vendors are coupled  with in-depth analysis from our treasury consultants.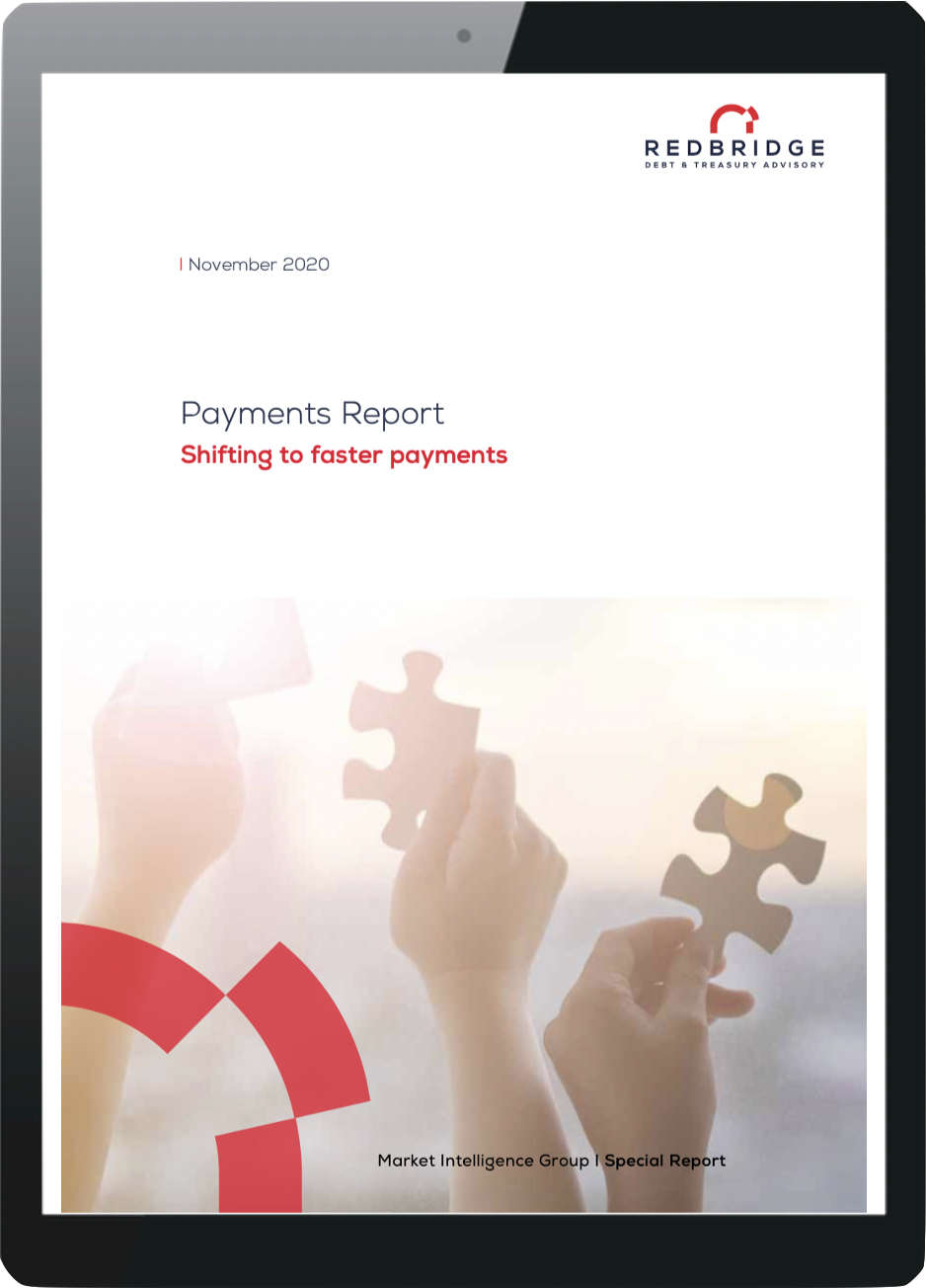 Included in our review:
Analysis: An overview on the future of payment
Analysis: E-commerce, a strategy to maximize sales while limiting fraud
Instant payment survey with banks, vendors and PSPs
As well as our interviews with:
Michel Yvon, Decathlon
Charles Lutran, Criteo
Isabelle Olivier, SWIFT
TO ACCESS THE FULL BROCHURE, FILL OUT THE FORM BELOW